Blog Posts Tagged with Mobile
>Earlier today someone asked me: "you ever thinking of updating your android app?". Here's the TL;DR answer:

No, the mobile apps have been abandoned. They'll work as is for as long as Google and Apple will keep them in their app stores and the device operating systems are compatible.

There's really no reason to use the apps, aside from push alerts. And I'm planning on adding push alerts to the website now that Apple has finally allowed them on Progressive Web Apps.
I'm back from my summer vacation and I've just released a new version of the mobile app. It's live on the Google Play Store (Android) and still waiting for review on the iOS App Store. (Although iOS users can get the new functionality now by launching the app, killing it and then launching it again.)
Here are the highlights of what's new:
Read More ➞
I've released a couple of new intraday alert types over the last several days. All of these were due to people messaging me to suggest I add them. So I'm glad to see that people are finding the intraday alerts useful and that they're suggesting things that I either missed or, in the case of StockTwits, might have never even thought of creating.
Read More ➞
I finally figured out what was causing the inability to stay logged in on the SwingTradeBot iOS app. The fix has been released and you should now be able to remian logged in for 30 days at a time. You don't need to update the app, just log in and you should be good to go.
I'm glad to have this problem solved and am looking forward to getting back to building out the app's functionality.
Read More ➞
Update: The SwingTradeBot mobile app has been released for both Android and iOS.
You may have seen some new links around the site today. I've added some intraday alerts ito the mix. These alerts are *near real time* -- they may be delayed from 1 - 20 minutes. But I think they're still very useful, as long as you're not trying to be a scalper with them.
You'll be able to select from a list of things to which you want to be alerted. This functionality is in beta now and it may be a little buggy. I'll be tweaking things over the next few days. So if you noticed anything weird please let me know.
Oh, I should add that these are only available on the US (Nasdaq, NYSE and Amex) version of the site. That's because that's the only version of the site for which I have intraday quotes. (Edit on May 8th: They are now also available for the Australia/ASX, Canada and UK/LSE markets.) If I can find a reasonbly priced quote source for Canada, Austrailia and the UK, then I'll turn on these alerts for those markets as well.
Here's the initial list of alerts:
Read More ➞
I just had a conversation with somebody who asked me if SwingTradeBot has a mobile (iOS or Android) app. That's a question I've gotten a lot. I understand why people want an app. -- as an iPhone user, I like the convenience & ease of an app and the (hopefully) faster & better interface.
Read More ➞
A collection of tips for using SwingTradeBot...
Read More ➞
I just received an email asking me how to remove stocks from a watchlist. It's pretty straight-forward but it may not be obvious if you're using a mobile device. If you're using a desktop or laptop computer (or maybe even a large tablet) you'll see a trash can icon over on the right side of each stock's row. Just click the trash can icon to remove the stock from the list -- note that the table scrolls horizontally & you may have to scroll it to see the trash can icon. The pencil icons allow you to edit the stock's details (The note for a watchlist... stop loss values, number of shares, entry price, etc. for a portfolio).
If you are on a mobile device it a little trickier. For most of the tables on the site, columns get hidden to conserve space on mobile devices. You'll be able to tell when data/columns have been hidden because you'll see a plus sign on the left side of each row. Tapping the plus sign or just tapping anywhere in the row will expand the row and show the hidden columns. Once the row has been expanded you can click the "+" to reveal the trash can. See below:
Read More ➞
Update: Now there's an even faster way to view the charts.
I've just implemented a feature I've wanted since I launched the site. You can now hover your cursor (mouse pointer) over a stock ticker to get a pop up of the chart. (Similar to how FinViz.com pop-up charts work.) Here's an example: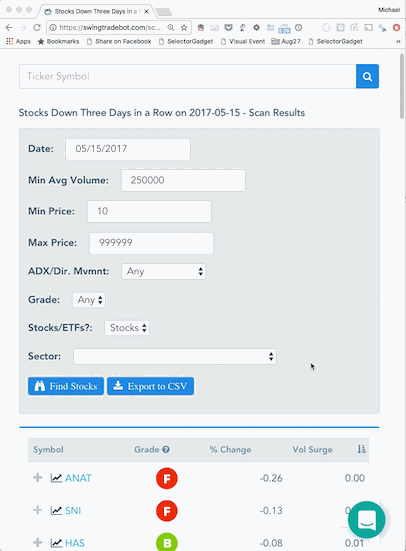 For now this works on all of the stock scan result pages as well as your portfolio and watchlist pages (and one of my favorite pages, the list of recent IPOs). My primary goal with this site is to make my nightly analysis process more efficient and this has already boosted my productivity a lot.
Read More ➞
A few months ago I downloaded several stock apps for my iPhone but I wasn't really happy with any of them. Invariably they were either too slow, too clunky or too expensive. Even my broker's app required me to login in every time I launched it! So annoying! What I wanted was something that would let me get a quick overview of my portfolio or watchlist while I was away from my computer. So when I started working on SwingTradeBot making it work well on mobile browsers was very important to me. So far I'm very happy with using it from my phone -- no app required, so it should look (pretty much***) the same on any mobile browser. I also like being able to access it from ANY device and see the same info everywhere.
Here are some screenshots:
Read More ➞